Freethinking Recovery
In Freethinkers Recovery, you are free to have your own beliefs, but we do not emphasize any particular view.
We do not open or close our meetings with prayer. Our main purpose is to recover and to help others who want recovery in their life.
At Tús Nua everyone is welcome, you are welcome regardless of what you believe or don't believe. Come late, leave early.
Love and tolerance is our code.
Listen back to our recordings of speakers. We are happy to have you here, keep coming back.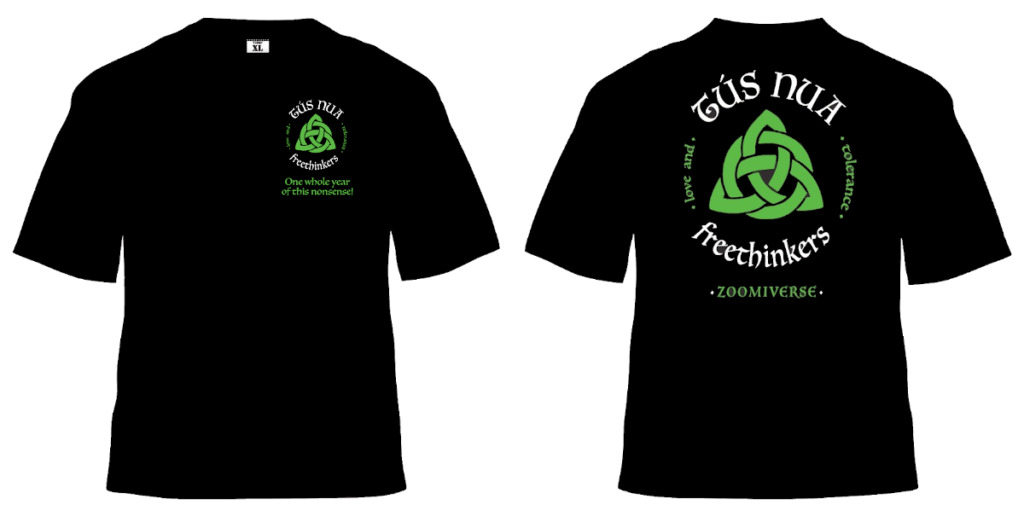 Meetings
Click here to get our meeting times in your local time
---
---
Monday
Topic Meeting All fellowships
🇮🇪 Irish Time 1:00pm
Meeting ID: 86783948718
Passcode: tusnua
Writers All fellowships
🇮🇪 Irish Time 9:00pm
Meeting ID: 86783948718
Passcode: tusnua
Tuesday
Speaker All fellowships
🇮🇪 Irish Time 4:00am
Meeting ID: 86783948718
Passcode: tusnua
Check-In All fellowships
🇮🇪 Irish Time 1:00pm
Meeting ID: 86783948718
Passcode: tusnua
Wednesday
Chairperson Choice
🇮🇪 Irish Time 1:00pm
Meeting ID: 86783948718
Passcode: tusnua
Chairperson Choice
🇮🇪 Irish Time 3:00pm
Meeting ID: 86783948718
Passcode: tusnua
Alternative Literatures
🇮🇪 Irish Time 9:00pm
Meeting ID: 86783948718
Passcode: tusnua
Thursday
Chairperson Choice All fellowships
🇮🇪 Irish Time 7:00am
Meeting ID: 86783948718
Passcode: tusnua
Speaker or Reading
🇮🇪 Irish Time 1:00pm
Meeting ID: 86783948718
Passcode: tusnua
Embracing Neurodiversity
🇮🇪 Irish Time 5:00pm
Meeting ID: 86783948718
Passcode: tusnua
Friday
FreeThinkers coda Working With Literature
🇮🇪 Irish Time 8:00am
Meeting ID: 82982989012
Passcode: ftcoda
Speaker or Readings AA
🇮🇪 Irish Time 1:00pm
Meeting ID: 86783948718
Passcode: tusnua
FreeThinkers coda Working With Literature
🇮🇪 Irish Time Midnight
Meeting ID: 82982989012
Passcode: ftcoda
Saturday
Chairperson Choice All fellowships
🇮🇪 Irish Time 7:00am
Meeting ID: 86783948718
Passcode: tusnua
Speaker Meeting
🇮🇪 Irish Time 6:00pm
Meeting ID: 86783948718
Passcode: tusnua
Tus Nua Music Hour
🇮🇪 Irish Time 8:00pm
Meeting ID: 86783948718
Passcode: tusnua
Sunday
Check in Meeting
🇮🇪 Irish Time 6:00pm
Meeting ID: 86783948718
Passcode: tusnua
Embracing Neurodiversity
🇮🇪 Irish Time 9:00pm
Meeting ID: 86783948718
Passcode: tusnua
Random Quote
"In deep self acceptance, grows a compassionate understanding."
by Jack Kornfield